Over 200 works of contemporary art form part of the staff's ordinary environment. At Ringier, art is not just a decoration, and it's much more than a passion of our publisher Michael Ringier.
"I go into a gallery with the intention of looking at art, so I prepare myself quite consciously for a particular situation. In a company, it's different, and I hope that the art just becomes part of people's ordinary life. That has quite a different effect – it's just there.
It stands there – it just hangs on the wall and affects people's perception very discreetly. I can imagine that the effect of the art – in the way that we show it – is even more profound than when you go into a gallery.
Journalism and art both pose questions, both awaken emotions. They polemicise, they polarise, and perhaps their most significant common factor is that both have to be highly intelligent. Art poses questions, journalism poses questions – only thus do we have any chance of getting fresh answers.
Even more important, maybe, is that we let ourselves make subjective decisions about art. Art deals in emotions; art deals in uncertainty. Actually, when we make decisions about art, we act exactly the same as for business decisions. Getting involved with art is a kind of training for making decisions in business."
Michael Ringier
Artwork
| | |
| --- | --- |
| Artist: | Sue Williams |
| Title/Year: | Big Red Shoes, 1998 |
| Material: | Oil and acrylic on canvas |
| Dimensions: | 209 x 265.5 x 4 cm |
| | |
| --- | --- |
| Artist: | Stefan Tcherepnin |
| Title/Year: | Tilyou Traveler, 2018 |
| Material: | Faux fur, thread, wood, plaster |
| Dimensions: | 220 x 220 x 60 cm |
| | |
| --- | --- |
| Artist: | Gili Tal |
| Title/Year: | Exclusive Licensed Range Rover Evoque12v Ride-on Car with Remote Control-Red, 2016 |
| Material: | Lazertran, turpentine and varnish on canvas |
| Dimensions: | 162 x 121 x 3.5 cm |
| | |
| --- | --- |
| Artist: | Avery Singer |
| Title/Year: | Untitled, 2016 |
| Material: | Acrylic on canvas |
| Dimensions: | 195.5 x 155 x 3 cm |
| | |
| --- | --- |
| Artist: | Manfred Pernice |
| Title/Year: | Cassette #59, 2017 |
| Material: | Metal, plastic, paper, glass, magnets |
| Dimensions: | 45.5 x 45.5 x 5 cm |
| | |
| --- | --- |
| Artist: | Matt Mullican |
| Title/Year: | Untitled (Default Atmospheres/Landscape), 2004 |
| Material: | Digital print |
| Dimensions: | 30.5 x 45.6 cm |
| | |
| --- | --- |
| Artist: | Helen Marten |
| Title/Year: | Part offering (matter of fact pastimes), 2014 |
| Material: | Acrylic silkscreen and hand painting on punched and textured leather in stained ash frame, powder coated steel, hand stitched packaging paper, embroidery |
| Dimensions: | 288 x 218 x 28.5 cm |
| | |
| --- | --- |
| Artist: | Jana Euler |
| Title/Year: | Untitled, 2014 |
| Material: | Oil on canvas |
| Dimensions: | 210 x 280 x 2 cm |
| | |
| --- | --- |
| Artist: | Eliza Douglas |
| Title/Year: | Bring Back the Dead, 2018 |
| Material: | Oil on canvas |
| Dimensions: | 213.3 x 183 x 3.5 cm |
| | |
| --- | --- |
| Artist: | Kerstin Brätsch |
| Title/Year: | Unstable Talismanic Rendering 21 (with gratitude to master marbler Dirk Lange), 2014 |
| Material: | Ink and solvent on paper |
| Dimensions: | 227 x 183 cm |
| | |
| --- | --- |
| Artist: | Ed Atkins |
| Title/Year: | Untitled, 2017 |
| Material: | HD video with stereo sound - 16 min. loop |
| Dimensions: | variable - Ed. 1/8 + 1 AP |
| | |
| --- | --- |
| Artist: | Josh Smith |
| Title/Year: | Untitled, 2013 |
| Material: | Oil on canvas |
| Dimensions: | 224 x 195.5 x 3.5 cm |
| | |
| --- | --- |
| Artist: | Richard Prince |
| Title/Year: | Untitled (Cowboy), 1986 |
| Material: | C-print |
| Dimensions: | 50.8 x 61 cm - Ed. 1/2 |
| | |
| --- | --- |
| Artist: | Larry Johnson |
| Title/Year: | Untitled (A Quiet Life), 1990 |
| Material: | C-print |
| Dimensions: | 149 x 119 cm - Ed. 3/3 + 2 AP |
| | |
| --- | --- |
| Artist: | Ugo Rondinone |
| Title/Year: | EINUNDZWANZIGSTERMAIZWEI-TAUSENDUNDELF, 2011 |
| Material: | Ink on paper mounted on canvas, silkscreen on plexiglass plaque |
| Dimensions: | 272.5 x 405.5 x 3.3 cm |
| | |
| --- | --- |
| Artist: | Valentin Carron |
| Title/Year: | No Limits, 2002 |
| Material: | Tire cover comprised of: acrylic-fabric backed vinyl, ink, elastic and nylon thread |
| Dimensions: | Ø 75 x 20 cm |
| | |
| --- | --- |
| Artist: | Sturtevant |
| Title/Year: | Warhol Black Marilyn, 2004 |
| Material: | Silkscreen and acrylic on canvas |
| Dimensions: | 40.5 x 35.2 x 2 cm |
| | |
| --- | --- |
| Artist: | Wade Guyton |
| Title/Year: | Untitled, 2006 |
| Material: | Inkjet print on canvas |
| Dimensions: | 228.5 x 137 x 4 cm |
| | |
| --- | --- |
| Artist: | Christopher Williams |
| Title/Year: | Kodak Three Point Reflection Guide; © 1968 Eastman Kodak Company, 1968; (Meiko laughing); Vancouver, B.C.; April 6, 2005, 2005 |
| Material: | C-print |
| Dimensions: | 50.8 x 61 cm - Ed. 1/10 |
| | |
| --- | --- |
| Artist: | Rodney Graham |
| Title/Year: | Allegory of Folly: Study for an Equestrian Monument in the Form of a Wind Vane, 2005 |
| Material: | 2 C-prints in light boxes |
| Dimensions: | each 306.5 x 141.3 x 17.5 cm - Ed. 1/3 |
| | |
| --- | --- |
| Artist: | Wolfgang Tillmans |
| Title/Year: | Lutz & Alex Sitting in the Trees, 1992 |
| Material: | C-print mounted on Forex in artist's frame |
| Dimensions: | 194.5 x 145 cm - Ed. 1/1 + 1 AP |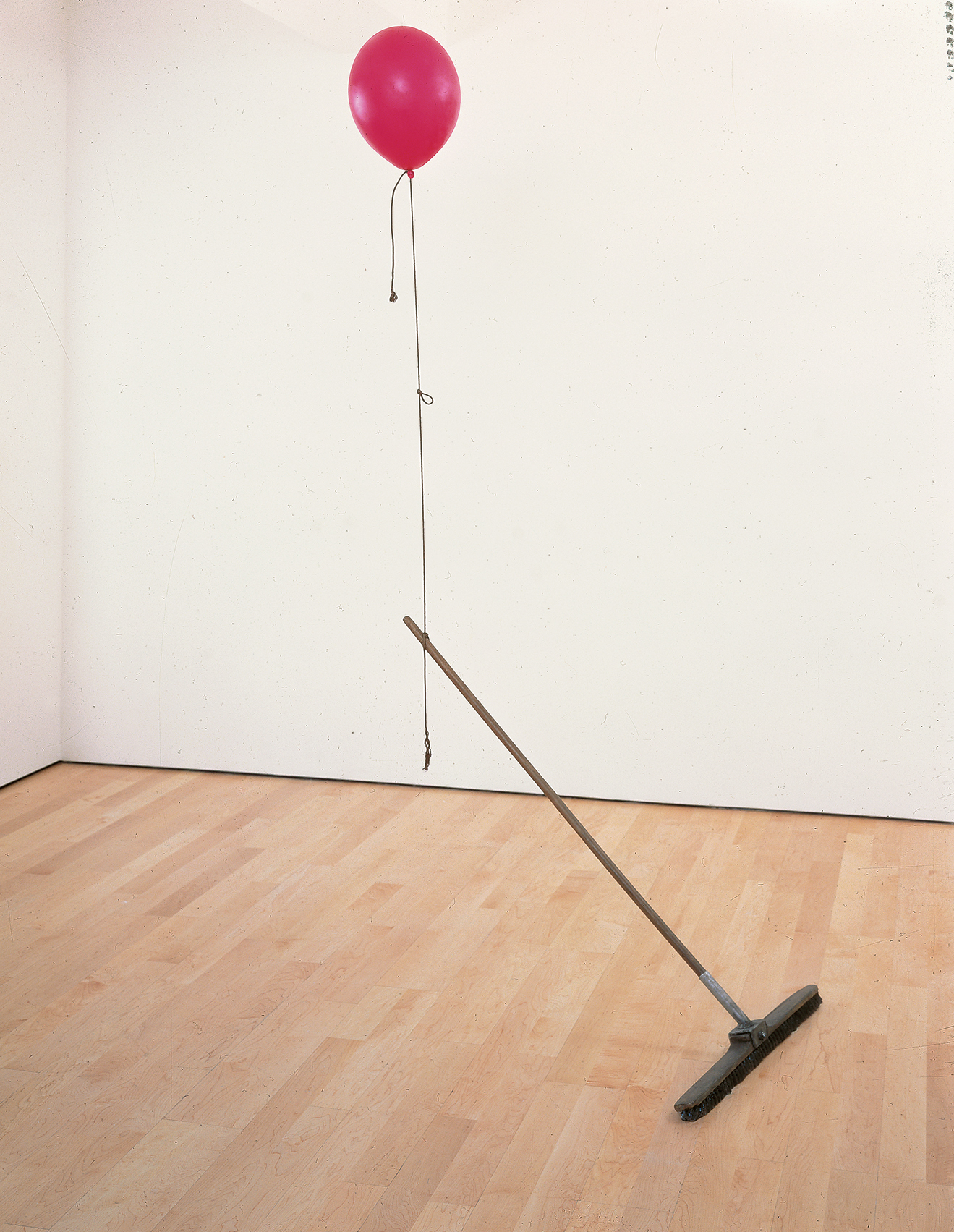 | | |
| --- | --- |
| Artist: | Urs Fischer |
| Title/Year: | A Place Called Novosibirsk, 2004 |
| Material: | Aluminum, epoxy resin, iron rod, string, acrylic paint |
| Dimensions: | 249 x 77.5 x 105 cm - Ed. 2 + 1 AP |
| | |
| --- | --- |
| Artist: | Mark Morrisroe |
| Title/Year: | Blow Both of Us, Gail Thacker and Me, summer 1978, 1986 |
| Material: | C-print |
| Dimensions: | 40.5 x 40.5 cm |
| | |
| --- | --- |
| Artist: | Sean Landers |
| Title/Year: | Alone, 1996 |
| Material: | Oil on linen |
| Dimensions: | 183 x 244 x 3.7 cm |
| | |
| --- | --- |
| Artist: | Peter Fischli / David Weiss |
| Title/Year: | Hostessen, 1989 |
| Material: | Plaster |
| Dimensions: | 62.5 x 57 x 34.5 cm |
| | |
| --- | --- |
| Artist: | John Baldessari |
| Title/Year: | Commissioned Painting: A Painting by Elmire Bourke, 1969 |
| Material: | Oil, acrylic on canvas |
| Dimensions: | 157 x 122.8 x 5 cm |
| | |
| --- | --- |
| Artist: | Peter Fischli / David Weiss |
| Title/Year: | Plötzlich diese Übersicht, meint der Käfer, 1982 |
| Material: | Unfired clay |
| Dimensions: | 19.7 x 18.5 x 17.5 cm |